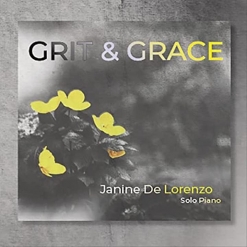 Grit & Grace is the third solo piano album from Janine De Lorenzo, an Australian pianist/ composer now living in Colorado. The album has a total of thirteen tracks, one of which is a solo piano arrangement of Brandi Carlile's "Right On Time" – the other twelve are originals. The music in this collection conveys Janine's impressions of the world in everyday life – "an expression of both the Grit and the Grace." Quoting Janine: "Since the start of 2020, I have found myself feeling profoundly introspective. The changing tides of our global community have raised so much grief in my heart and have forced me to be still, to listen more closely so as to better understand who I am on this small planet in this giant universe. The heartache has also strengthened my passions and resolve to share more love and light with the world through my music." Deep introspection is definitely a very big part of the music on Grit & Grace as is a warm and welcoming spirit. Sometimes gently contemplative and sometimes bigger and more passionate, this is music that calms the spirit and soothes the soul. The album was recorded at Piano Haven Studio in Sedona, AZ on Joe Bongiorno's incredible Shigeru Kawai SK-7L grand piano, and the piano sings with a voice that is both clear and velvety.
Grit & Grace begins with "Breath of Life," a gentle reminder to celebrate and appreciate the gift of life that we so often take for granted. Beautifully flowing and graceful, it's a lovely start. "Stillness" feels much more reflective and expresses the idea that in stillness we "can listen and hear all that needs to be heard." "Morning Light" conveys the hope and optimism of a new day – very peaceful and serene! "The Dream" is my favorite piece on the album. Darker and more intense, desire, intention and longing are interwoven throughout the music – I love this one! "Grace" returns to a more flowing style and describes how grace can emerge "from the direst of circumstances and the underlying grit of life." I really like this one, too! "A Different Story" is a beautiful love song for a treasured life partner and a "thank you" for sharing life together. Deeply personal and sincere, it's another favorite. Janine explains the inspiration for "Cloud Love": "Sometimes I look up and see the clouds drifting slowly, moving and merging, reconnecting and reforming, just as love does." Slow and effortless, this one is really blissful! "Grit" is more graceful and melodic than you might expect, but it serves as reminder to seek the light that appears to guide us through the toughest of times. The piece becomes more dramatic and powerful in the second half, quieting at the end. "Somewhere in Between" is "an exploration into the space somewhere in between knowing and not knowing, feeling and not feeling, being and not being." Darkly mysterious on the left hand yet free and spontaneous on the right, it's a fascinating piece! "Right On Time" is Janine's heartfelt arrangement of the Brandi Carlile song and brings this excellent album to a close.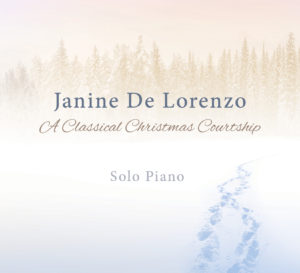 A Classical Christmas Courtship is the second solo piano release from pianist/composer Janine De Lorenzo following her 2018 debut, I'll Start in A Minor. A native of Australia, Janine is no newcomer to the music world! Classically-trained from a young age, she has taught music and piano both privately and in classrooms. After accompanying an all-female cabaret-performing group, Janine started composing soundtracks for live theater, films and television. In 2003, she was offered a position with Cirque De Soleil as keyboard player for "KA" at the Las Vegas MGM Grand, a position she held for eight years. Just after being offered the position of Musical Director for a traveling show for Cirque, a devastating fall on ice required Janine to take a year off to heal and to rebuild the strength in her fingers and wrists so she could play again. Janine returned to Cirque and toured with "Amaluna" before deciding to channel her creative passions into her own music. Lucky us!
Janine explains the origins of A Classical Christmas Courtship: "I wanted to create and play something unique and special for my audience and the idea of combining a Classical piece along with a Christmas song seemed like the perfect gift for them. I revisited some of my favorite Classical pieces, and introduced each of them to a Christmas song to see where this courtship would lead them. Each Classical and Christmas song weaves in and out of the other, as if walking hand in hand, leaving two sets of footprints in the snow." The collection includes eleven medleys and one original composition, all played in a peaceful style that will add a calming touch to your holidays. Some of the pairings seemed almost impossible when I saw the list of songs, but they are all beautifully thought out and each is perfect in its own way!
The album begins with Pachelbel's "Canon" and Leonard Cohen's "Hallelujah." Really? It's a wonderful combination and Janine plays it in a warm, flowing style that is poignant and heartfelt. Mozart's "Sonata in C" weaves in and out of "Good King Wenceslas" – light, sweet and totally charming! Bach's "Jesu, Joy of Man's Desiring" pairs perfectly with "Joy To the World" – lighthearted and joyful. Another combination that had me scratching my head was Debussy's "Clair de Lune" and "The First Noel," but it's a track that makes me think of a peaceful night with the moon shining on fresh snow – love it! "Nearer My God to Thee" and "Carol of the Bells"??? Both are played very gently and smoothly – absolutely gorgeous! The biggest surprise for me was the combination of Erik Satie's "Gymnopedie #1" and "Deck the Halls." "Deck the Halls" is very slow and graceful (like its partner), so you have to listen for it, but the piece is stunning! The album closes with Janine's own "December Snow," inspired by watching snow gather and build up in the branches of a tree outside her window. Slow, very open and haunting with a surprise at the end, it's the perfect closing to a perfect album!
A Classical Christmas Courtship is available from www.JanineDeLorenzo.com, Amazon, iTunes and CD Baby. This one will be on my Favorites list for the year!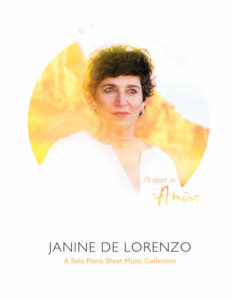 I'll Start In A Minor is the debut solo piano album by Janine De Lorenzo, but she is no newcomer to the music world! The album is dedicated to Margriet Pendavingh, De Lorenzo's piano teacher and lifelong friend until Margriet's passing in 2015. Through her years of classical training, De Lorenzo often found herself creating her own music at the piano even though her teacher believed that any music that wasn't classical was jazz and she had no tolerance for jazz. A native of Australia, De Lorenzo went on to complete her Bachelor of Education in Music. She taught classroom music as well as piano students, and became the pianist for an all-female cabaret-performing group. That experience led her to composing soundtracks for live theater, films and television. In 2003, De Lorenzo auditioned for Cirque De Soleil as was offered a position as keyboard player for the production, "KA," at the MGM Grand in Las Vegas. Over the course of eight years, she performed in more than 3000 shows. In 2011, Cirque offered her the position of Musical Director for one of the traveling shows that was being created in Montreal. Within a month she fell while ice skating and suffered a concussion, and about a week after that, she broke both of her wrists – devastating events for a pianist. When she was able to travel again, De Lorenzo returned to Australia to be close to loved ones while she healed and recovered. Her piano teacher was living a few doors down from her mother and was able to help De Lorenzo rebuild the strength in her fingers and wrists so that she could play again. De Lorenzo returned to Cirque after about a year, touring with the show "Amaluna" as Musical Director before deciding to take time to channel her creative passions into her own music. What an amazing story, and what an amazing album! Recorded at Joe Bongiorno's Piano Haven Studio in Sedona, AZ on his Shigeru Kawai concert grand, the fifteen original piano solos are warm, expressive and very beautiful. I'll Start In A Minor begins with "Here I Am," an elegant introductory piece that is very open, honest and heartfelt. "The Light" was composed in honor of De Lorenzo's grandmother, who bought her first piano not knowing that the instrument would "shine a light" for the rest of her granddaughter's life. "For Margriet" is the beautiful piece composed for that very special piano teacher. Overflowing with love and gratitude, it's a piece that would bring a tear or two (or a few hundred!) to any piano teacher's eye – a magnificent tribute! "Freedom" picks up the tempo a bit to express what it feels like to be on an open road "with no where to be and everything to see." "Just Play" is a loving thank you to De Lorenzo's parents for the encouragement to "just play." The simple, poignant melody expresses so much with so little – compelling! The melancholy "Reaching Upwards," reflects on the fear, struggles and uncertainty of recovering from her broken wrists and finding the courage to start again. The piano is where De Lorenzo often finds herself when she has questions, and "Answers" is the graceful, lyrical description of that process. "Awakening" is a love song, pure and simple. Expressed with tenderness and passion, it's another favorite. The haunting "If I Can Reach You" is a piece about connection – especially through music. Open and uncluttered but very emotionally powerful, it's my favorite track. "Through The Years" closes the album with a gentle reminder about the passage of time and moments from the past that often come to mind. Brava! I'll Start In A Minor is an excellent and uplifting listening experience from the first note to the last! It is available from JanineDeLorenzo.com, Amazon, iTunes and CD Baby. Very highly recommended! Kathy Parsons, August 21, 2018